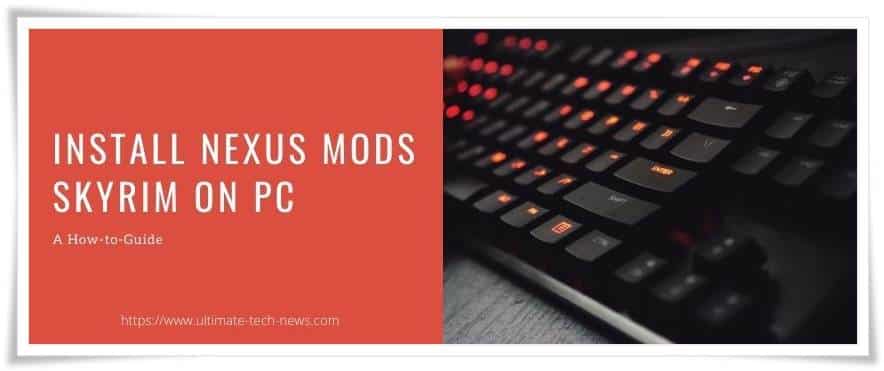 Skyrim Nexus: Many have been pleased with the re-release of Nexus Skyrim for PC. Indeed, it had left many impressed because of the addition of 64-bit.
This unlocks the fullest potential of Nexus Mods Skyrim including the modding scene. This must also enable for a better and more stable experience.
In this regard, here is a guide on how to get started with installing Nexus Mods Skyrim on PC. The Nexus Mod Manager will also have to be utilized to be able to keep & manage things organized.
And thus, it will be a lot easier and faster to install bigger packages. Nexus is actually a dedicated platform for all those modders out there.
This way, they will be able to update and release their mods for different titles like the Nexus Skyrim Special Edition. In regard with the publishing of content, Nexus Skyrim will enable for feedback, support, discussion and a whole lot more.
The site is also easy and convenient to navigate with the mods that are properly and accurately organized for ease and convenience in filtering.
Install the Skyrim Nexus Mod Manager
Register the account right through the website of Nexus
Download the NEXUS MOD MANAGER
Install and run the NEXUS MOD MANAGER
Confirm the place or the location of the Nexus Skyrim Special Edition
Choose for the Skyrim Special Edition
Press the button OK.
Choose where you exactly would want to store the downloaded mods.
Press OK in the event that an alert window comes out.
In addition, there is a need to run the Skyrim SE right through the main menu. This must be done before you activate the mods. Thus, make an effort to give it a boot right through the initial menu.
Afterwards, quit. This will help create an .ini file for the purpose of editing. This will also make it sure that you will not get into issues with all those nexus skyrim mods that do not work properly.
Install Skyrim Nexus Mods
Search for all those mods found on the Nexus website.
Read on the full description of the mod.
Choose for the so-called Files tab.
Choose for "Download with Manager" right through correct files that are need for mod.
Wait until then that mods have been completely downloaded in NEXUS MOD MANAGER.
Choose a mod that you would want to install. Then, choose for the "Install".
With several mods that already have been download, you will notice that the load order begin to populate.
In this list, it will be deem necessary as some files and mods must be load by the fame in such a particular order.
There are also mod authors that offer information in the mod descriptions right through Nexus. This is in the event that the files need to be configure in a particular set of order.
Good thing, there are tools available that you could check as well. This way, you will be able to know if there are specific issues with the setup.
Read more : About Akamai Netsession
Read more : Couch Tuner Watch Series Online
Read more : Movierulz: Latest Movies HD Download Website
Download LOOT for the Skyrim Special Edition
Download and then, install LOOT.
You must run each time that you will edit your load order.
LOOT will not actually support SSE.
The developer will also actively work to obtain a stable release.
It is good news to get it (LOOT) working using the new Skyrim.
This is also in the case that you would want to get involve with a snapshot build.
In Skyrim, how do you manually install mods?
BASIC MANUAL INSTALLATION
Just drop the files into the data folder, any mod author worth his salt is going to have the folder structure set up so you can just extract the archive file into /data and proceed.
You can get to the data folder by navigating the local content for Skyrim. This option might be from the right-click menu (do not have my computer in front of me to check), and is definitely in the match's properties under the"neighborhood game content" tab.
Once there, the general structure (in case you get mods with a poor or weird folder arrangement in their archives) is relatively simple:
1.esp, .esm, and .bsa files in the main /information record
2.textures have a specific folder structure in /data/textures
3.Versions and cartoons have a Particular folder structure in /data/meshes
4.Script files go in /data/scripts
Just drop the files in the right location, type your mods using LOOT (Load Purchase Optimization Tool), and you are good to go.
LOOT is one of two tools (besides a mod manager of your pick ) I and others advocate for dealing with Skyrim mods, we'll discuss them later; first, a warning.
Be warned, if you put in mods this manner, that eliminating a mod (for example to resolve a battle )) may be challenging in the event that you've got more than one.
Mods may have entire folder trees they need to function properly, including meshes(3d models), textures, scripts, translation strings, and sound files; and you usually need to keep your data folder as clean as possible.
I STRONGLY RECOMMEND with a mod supervisor (possibly NMM or MO, though there could be others) since they could remove all a mod's files at once so you do not risk forgetting some.
This is particularly important when you use at least two texture mods, since these often have lots of files across many folders and may require directly overwriting another retexture's documents since there's no loading sequence for them (as there is for .esp and .esm files).
A mod manager may keep track of which files are uninstalled and automatically replace the overwritten files when removing another mod.
You then decide you do not particularly like retexture B and want to remove it.
Should you do this all manually, then you need to remember to go back and get retexture A's document again, otherwise you are going to have the default vanilla iron armor.
If you used a mod manager to install both, it knows that B overwrote A and it'll automatically replace the document.
Now multiply this scenario by 50 unless these retextures are very specific and only affect the 1 armor. That's where a mod supervisor helps.
And before anyone says the textures won't get THAT bad just as an example from memory, then all those mods overwrites some files in the mod(s) before it
Clothing and Clutter Fixes
Weapon and Armor Fixes
Complete Crafting Overhaul
AMidianBorn (armor, weapons, content add-on)
Improved Closed-Faced Helmets
Better Shaped Weapons
Transparent Glass and any other set-specific mods
So yeah, in case you're considering using more than a couple of mods…utilize a mod manager and save yourself some headaches.
RECOMMENDED TOOLS
1.LOOT
2.Wrye Bash
LOOT sorts your mods for you and creates a load sequence (the order in which the game reads mod documents ).
It takes into consideration dependencies along with other metadata to automatically receive the ideal purchase. It also warns you if you're missing any dependencies. Use it.
Wrye Bash can do a few things, however you need it to get you: the bashed patch. When a mod changes the contents of chests or merchants or most other in game inventories and containers, it sets a listing of those items which are possible to get.
The issue if that if a single mod adds axes to a listing and a later mod adds swords instead, only swords will be added; this is only because mods can only replace the entire list, not individual items inside.
A bashed patch combines all of these changes and merges them into one mod that contains all changes to these lists, so mods may add to them without conflicting with every other mod that tries to grow the same list. Basically, it resolves one type of mod battle and if you have more than a handful of mods, you want it.
What are the best mods for Skyrim?
I have a significant variety of mods geared toward making the game more challenging.
Organized Bandits in Skyrim:
Makes bandits a lot tougher and a lot more varied.  You'll come across spellcasters, necromancers, and battle-hardened experts making their method as bandits.
More Bandit Camps:
Adds 30 bandit camps throughout Skyrim.
Also, highwaymen!High Level Enemies:
In normal Skyrim, enemies climb with your character until you reach level 40, but most enemies can not get higher than level 40.
I have a level 96 character who could annihilate a room full of enemies with a snap of their fingers.  Not any longer!
This mod also adds more than 800 new enemies.
Upgraded Weapons and Armor for Enemies:
Ever notice how anyone can smith better weapons and armor…however bandits and other enemies never do?  This mod provides a random possibility that every bit of gear that opponents use will be enhanced quality.
Apocalypse Spells:
Adds a ton of new magic charms.
XTended Loot:
Adds better loot into dungeon chests.  But there is a catch!  Enemies may now have enchanted weapons and armor.  You have not lived'til you have fought a bandit with a mythical sword enchanted with Paralysis…