LIST OF THE BEST CAT POKEMON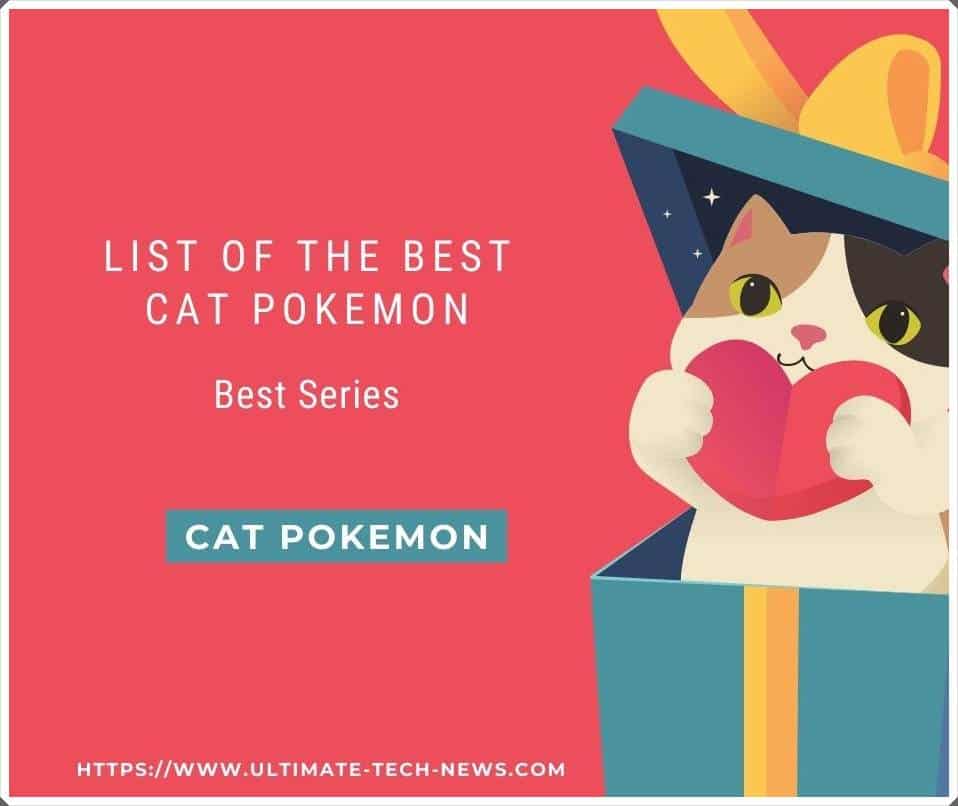 Pokémon series has been inspire by many animals, and one thing to know is that these Pokémon have been nothing less than exquisite. Cat Pokemon.
There have been numerous monsters in Pokémon series, but when you think about Cat Pokémon, you will not think of monsters.
Looking for a top-level Pokemon Go account with MewTwo and many other legend Pokemons? Visit now and get a hand-leveled pokemon go account for sale today. Check Now!
Here are the best and top Cat Pokémons featured since time immemorial.
1. MEOWTH #52/PERSIAN#53
Meowth is one of the characters from the original game, and it is very attractive and desirable. This Cat Pokémon is strictly found in the blue version which is very limiting for its lovers.
The basis of this cat is a Japanese cat called Maneki Neko which is greatly linked to financial luck. The Meowth and Persian and they are known for hurling coins at their opponents.
And this is referred to as 'payday.' Meowth has featured in many spinoff games, and over time it has become one of the Pokémon top cats. Persian is also known for its dark type moves.
2. MEWTWO #150/MEW#151
These two are also two of the most exquisite Cat Pokémons. They have also been present since the beginning. The Mew cat was hard to find as compared to Mewtwo.
Being legendary cats in the Pokémon group of monsters, they have powerful stats, and their reputation is excellent. Mewtwo has been featured in many spinoffs and other side games.
These two are adorable, and many Pokémon fans have wondered whether Mew is a Cat Pokémon. Luckily, the doubt was cleared, and it was confirmed that Mew is Mewtwo's clone.
3. SKITTY #300/DELCATTY#301
Skitty and Delcatty are simply adorable and very cute. The pink color of the Skitty cat is very appealing and very feminine which is impressive.
Its evolution, Delcatty is equally impressive and especially with the neck pillow around it. These two are specialists in move assist which they pull against their opponents.
These two Cat Pokémons fall in the normal category.
4. PURRLOIN #509/ LIEPARD #510
The purple color is perfect for these cats. As part of the Cat Pokémon family, we cannot deny that they are cute. Even so, do not let the cute and charming nature of purrloin fool you.
It is a master thief. It can manipulate anyone into forgiving it. Liepard is feisty. Even so, it has become a favorite cat Pokémon for many players.
This duo is very dark and devious, & they have learned numerous dark type moves. If you are not careful, they will fool you with the gorgeous fur, the giggles, & cute faces will cost you a lot.
5. SHINX #403/LUXIO #404/LUXRAY #405
This is yet another group of Pokémon that makes me think they are lion Pokémon. Looking at them makes me feel like I am staring at a lion Pokémon and not a cat Pokémon.
Shinx looks very adorable and harmless. Shinx slowly grows to Luxio which looks a little dangerous and not something you would wish to play with.
This is at level 15, and Luxio is known for being a ferocious hunter. When in level 30, Luxio turns to a grown adult and thus Luxray.
The thick black mane that is on its face makes it look very wild and hostile. The Luxray has a special power of seeing through anything which is scary.
6. RAIKOU
Raikou is part of a beast trio that was of the second generation. Even so, there have been debates as to whether the trio were cats or they were dogs.
This is because their features were very ambiguous and confusing. This Cat Pokémon can ride clouds when there is a thunderstorm which is very impressive.
It has been feature in Super Smash Bros. its saber-toothed look is frightening.
7. GLAMEOW #431/PURUGLY#432
This pair is a normal type Cat Pokémon. Looking at Glameow, you will see sweetness, but Purugly shows nothing remotely sweet about it.
The contrast in how they look is striking. Glameow is glamorous, and Purugly is not so pretty. This pair of Cat Pokémon has mastery of both normal and dark moves, and this makes them flexible.
They have amazing hypnosis abilities. One thing that caught my attention with this duo is the naming system. It makes me wonder who named them. The prefix 'Glam' and suffix 'Ugly' are nicely thought off.
8. LITLEO #667/PYROAR #668
Well, these two are a perfect representation of lion Pokémon. You can tell from the suffixes used 'Leo' and 'roar.' They live as a pride of lions.
They have some very sophisticated moves such as overheat, hyper beam, and incinerate. Litleo is adorable, but when it turns to the male Pyroar, you will not think so anymore.
The female Litleo will also grow to a female Pyroar. The Pyroar look is ferocious.
9. ESPURR #677/MEOWSTIC #678
The Espurr is of Scottish fold descent, and it has wide eyes that make it very adorable and creepy at the same time.
This Cat Pokemon is capable of uncontrollably blasting anything that is within a radius of 300 foot which is terrible.
The Meowstic Cat Pokemon has folded ears that stick up when attacking. The female Meowstic will learn attack moves, and the male version will learn support moves.
10. ZANGOOZE #335
The anger on this Cat Pokemon face is scary. Let alone the red patches and the claws. This does not look like a typical Cat Pokémon, but at least it has cat features.
It was also list as a 'cat ferret.' It is related to the mongoose which falls in the same species of cats. Seviper, which is a snake Pokémon, is its rivalry but I would not worry about this Cat Pokémon.
Especially with the crush claws. One hilarious thing is that in a place where these two meet, the player will be safe because they will turn to attack each other.
Video
The cat Pokémon mentioned above is the legendary and exquisite Pokémon we have. I have seen Lion Pokémon, and I am yet to see Tiger Pokémon.
I long for the day I will see the beauty of a tiger on a tiger Pokémon.