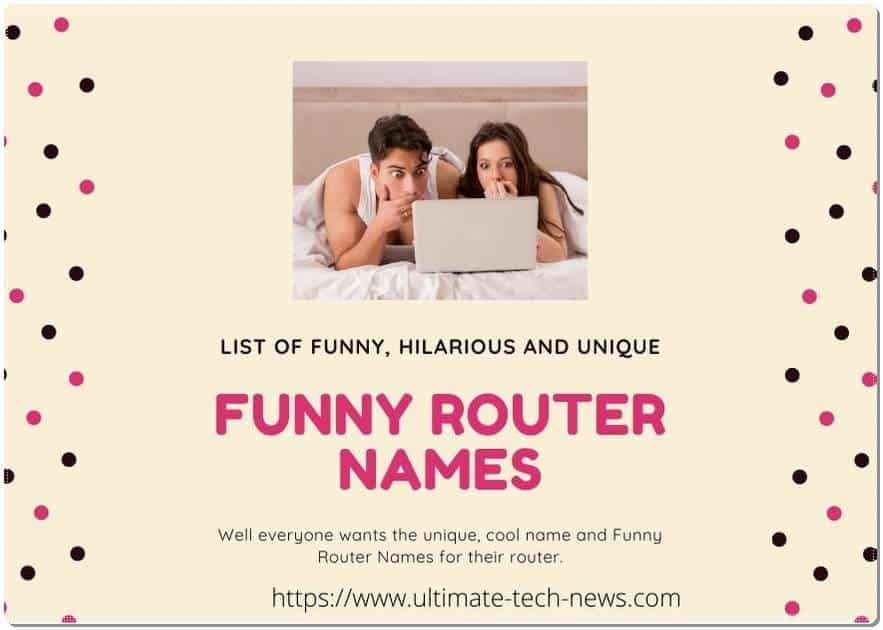 When we buy a router with wifi connection. the first thing we need to change is it is default username and password. after that we need to change it is the name which is called router SSID Name. Well everyone wants the unique, cool name and Funny Router Names for their router.
Why We Need Funny Router Names?
Neighbor scan wifi's around him and when he sees your wifi name he should be shocked. and when our mind could not think unique names for our wifi then the first thing we do is ask it on Google.
How To Change Router Names?
Some people who own a wifi does not know how to change a wifi's SSID Name. so they kept default wifi SSID Name. when they go in public and scan for wifi they find unique and cool wifi names and they must think how can we change it. so I am going to help you now you just have to follow my steps.
Open Browser.

Put your wifi's IP Adress in the Search box. ( you must know it. if you do not know you can find

it with some apps available on Playstore )

Enter router's username and password, and click setting.
Click on wireless, you will see Name SSID Box.
click on that change the name and save bingo you have changed your name.
In this imaginative world. There are some creative people around. Who have incredible ideas to make their wi-fi witty funny and incredible at the same moment too? Wi-fi is a need also it becomes the part of the life of every individual.
Craves For An Internet Connection
Everyone craves for an "internet connection" which should be quite faster. If the internet connection is available for free without any cost would not it be great? Connecting to the web and an internet connection has become much easier and comfortable. All you need to do is turn on your wi-fi and search for networks around you. They should be near enough so your device can catch their signals easily.
And the next thing you will need is a password of the network you want to connect with. And if you know the password or it is your friend's wi-fi and he told you the password. Then it will feel like you got the whole world in your hands.
Behind Router Names
Some wifi router names can assist you as a means to deliver a powerful message to acquaintances or the neighbor. Others are simply the outcome of creative thinking and mind. We have lots of people in our world who have the creative mindset and thinking.
Some peoples creativity level is just at the legendary level when it comes to empowering their wifi names. They leave no chance to make it funny and weird. I don't know why they do it. But maybe to make us laugh out loud.
What Ultimate Tech News Brings You
Today I have bought tons of weird and funny and unusual wifi names which will make you laugh out louder. You will not believe that people like these still exist on earth. Who does not waste even one chance to make us laugh on them? Wifi or web connection is our daily need now.
It is hard to live without internet in this era. Because this is a technical era. 90% work depends on the internet for example if you want to apply for a passport or some other documents. You just need an internet connection. Yeah, you can apply for it offline too but it will take years to get the work done.
And it will take only a few minutes if you do it online. If you are less internet user you can pass your time with your mobile internet. But if you are a heavy user then you must need a wifi connection. Let's not waste any more time and let's get rolled to the funny and weird wifi names. Let's go for it.
Funny and Unique Wifi Router Names
Here are the funniest and hilarious wifi names which will make you and your neighbors surprised. Check out the list of 100 plus funny names and choose one for your wifi network some people must have funnies passwords but they did not tell us so we can not reveal it.
Oops, bad joke. Let's not waste any more time and let me take you to directly on funny names sit back relax and enjoy and choose one for your wifi network.
Router Names List [Updated*]
Don't even try it
No Free Wifi for you
Tell My Wifi Love Her

My Own Damn Internet

Get Off My lawn

Virus Infected WiFi

You Pay Now

Will U marry Me?

Go Home Tourists

Mum Use This One

Buy Another cup You cheap Skate

Feel Like Flying

Your music is annoying

Your grammar is more annoying

No Free INternet Here Keep Looking

You Lost Your Connection

Once See Back

Call Me Maybe

XavixStore
Hogwarts Great hall Wifi

Please Come Back

Not Your Wifi

Only For Zombies

God is our Rock. He'll save you!

Does God Know u steal the internet?

I'm Under Your Bed

2 Girls 1 Router

C

o

o

l

e

s

t

W

i

−

F

i

N

a

m

e

s

f

o

r

y

o

u

r

W

i

F

i

N

e

t

w

o

r

k
You Lost Your Connection
I'm Under Your Bed
Shut Your Fucking Do Up
secure connection
Your Email Hacked
Search for another
Connection Lost
2 Girls 1 Router
SabFreeMeinLeLo
You Lost Your Connection
NotTheWiFiYouAreLookingFor
You Shall Not Connect
Clever Wifi Names
It hurts when IP
exe
NoFreeInternetKeepLooking
MyNeighborsSuck
Connect and Die!
Wifi Names Inspired by People 2020
    Carona
    Covid 19
    Lockdown
    Quarantine area
    Loooser
    Free wifi
Final Words
At last, I would like to say this was all about funny and unique wifi router names. if you like any name choose it for your wifi.
and beware of stealing password without his/her permission because that could be a bad decision.