There are some things to keep in mind when converting DVD to MP4 safely and quickly.
First, DVDs may be equipped with copy protection technology called Copy Guard. To convert copy-protected DVD to MP4 safely and for free, you need software that can remove it. However, removing copy protection falls into a legal gray area and doing so may result in copyright infringement. Therefore, it is important to choose a DVD that can be converted legally, such as a DVD you created yourself or a DVD whose copyright has expired.
Next, when choosing a safe and free DVD to MP4 converter, you should also pay attention to its safety and reliability. There are a lot of free software on the Internet, but some of them contain viruses and malware. Additionally, quality, speed, supported formats, etc. also vary from software to software. Therefore, it is best to choose the software based on the following criteria.
Check reliability and reputation through official website and user reviews
Scan with security software to ensure there are no viruses or malware.
Check compatible DVDs and types of copy protection that can be removed
Check whether settings such as output format, image quality, and sound quality can be changed freely.
Check if there are additional features as it would be useful if there are video editing and compression features.
Considering the above points, let's choose a safe and free software to convert DVD to MP4.
Best program to convert DVD to MP4
WonderFox DVD Ripper Pro is an easy-to-use and safe software to convert DVD to MP4 (it is paid software, but there is also a free trial version). If you download the official version from the official website, it will not contain any viruses or malware.
You can remove copy protection and convert DVD and ISO files to MP4, MP3 and more safely and for free, with presets for over 500 formats and devices. It also supports converting DVD to ISO file or Video_TS for free and safely. You can also set the output image quality/ripping speed with one click, freely adjust various parameters such as resolution/frame rate/bit rate/aspect ratio/volume, add/select subtitles, select audio tracks, rotate/crop/split. Also supports /reverse and filter addition.
In conclusion, WonderFox DVD Ripper Pro has a great reputation as a high-quality, fast DVD ripping software that is well received by many users and can convert DVD to MP4 safely and for free. Next, we will detail the steps to safely convert DVD to MP4 using this software, so if you are interested, download the free trial version to your Windows computer and give it a try.
Step 1: Add DVD to the software.
Insert the DVD into your Windows computer's DVD drive.
Click "DVD Disc" on the home screen, select the inserted DVD and click "OK".
Step 2: Select MP4 as output format.
Click the Output Format icon.
To convert DVD to MP4 safely and for free, please select MP4 in the "Video" category.
Of course, you can also choose convert DVD to WebM, AVI, MKV, MOV, WMV, VOB, MPG, H264, H265 and other formats.
By the way, you can select the music format by clicking the "Music" category, and you can select "ISO" or "DVD Folder" in the "1:1 Quick Copy" category.
Step 3: Convert DVD to MP4.
Drag the slider under "Output Format" to set the quality before converting DVD to MP4 safely and for free.
Click "…" to the left of "Open Folder" and select the output destination.
Click "Run" in the lower right corner to convert DVD to MP4.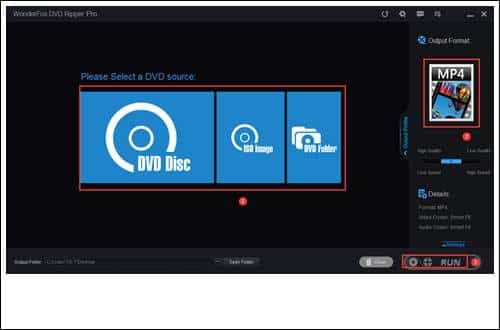 Final words
In this article, we present suggestions and instructions on how to use free and safe DVD to MP4 conversion software. Besides being free and safe, the best feature of the software introduced in this article is that it is easy to use, so even inexperienced people can easily convert DVD to MP4. Try it now!