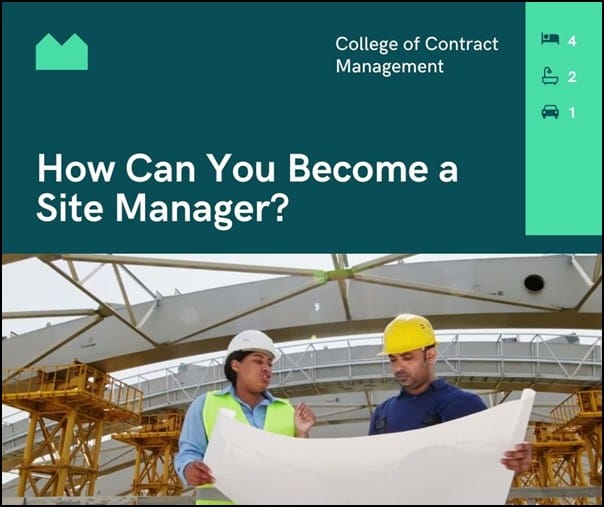 What is a Site Manager?
A Site Manager, also known as a construction manager, building manager or site agent is the person accountable for ensuring that a construction project is completed on time, safely, and within budget. A Site Manager is responsible for the overall completion of a project as well as the day-to-day running of the site. A Site Manager will be based on site, and supervise all those working there, including construction workers and any subcontractors. Depending on the size of the job, a Site Manager may report to a project manager or other senior manager. A Site Manager will need in-depth knowledge of construction and health and safety regulations, and white card training and telehandler courses are available to those wanting to pursue a career in this area.
Career progression
The job of Site Manager is a great position to aim for if you are already working on a construction site and would like to progress up the career ladder. You may be a labourer with multiple years' experience, in fact this is the most common scenario, with most Site Managers starting their careers in entry-level roles in the construction industry. Teaming this experience with a Site Manager training course will stand you in good stead for taking the next step in your career. If you are a graduate looking to enter into this role straight away, you may still be able to do so, though relevant experience will be invaluable, and a placement year may be required to enhance your experience.
Qualifications needed to be a Site Manager
There are various qualifications which will help you to gain the skills and knowledge needed to become a Site Manager. The majority of Site Managers will have a qualification such as a degree, HND, certificate or diploma accredited by the Chartered Institute of Building, CIOB. Many of these Site Manager training courses can be completed online at institutions such as the College of Contract Management, in your own time and alongside a full-time job or other commitments. Examples of qualifications available to you in order to gain the knowledge and skills required are:
CIOB Level 4 Certificate and Diploma in Site Management – Ideal for a current construction worker looking to further their career. The Level 4 Certificate consists of three modules including health and safety and takes six months to complete. The Level 4 Diploma follows from this, covering nine modules and taking a further year to complete. Once completed you are eligible to apply for a CSCS White Card, which will give you recognition as an Academically Qualified Person.
NVQ Level 6 Diploma in Site Management – If you would like to use your current job as a means to becoming qualified, an NVQ is a great option. You will build your portfolio of achievements whilst in the workplace and undergo a practical assessment whilst on the job rather than sitting an exam. Ideal for those who prefer vocational learning to traditional classroom learning. The course length is entirely up to you depending on the pace you would like to go at. Once completed you may be able to apply for a prestigious CSCS Black Card, which will identify you as a competent Manager.
Site Management Safety Training Scheme SMSTS Certificate – An SMSTS certificate is a short five-day course which is industry recognised and is the perfect addition to a CIOB Level 4 Certificate or Diploma or NVQ Level 6 as although not sufficient as a standalone qualification to become a Site Manager it is highly desirable within the industry and will further demonstrate your commitment, knowledge, and skills.
Qualities needed to be a Site Manager
So, you've completed your Site Manager training course, but there are a number of other skills you need in order to excel in a career in site management, including:
Excellent teamwork
Responsible and professional attitude
Strong communication skills
Well-organised
Problem-solving ability
Comfortable making decisions
Awareness of building regulations and health and safety policies
Final thoughts
If a career in site management is for you, rest assured there are a number of options available to help you get there, at just the click of a mouse away. With an average salary in the UK of £45,000, compared to approx. £20,000 for a construction labourer, furthering your education by taking a Site Manager training course in order to become a Site Manager is a worthwhile investment!