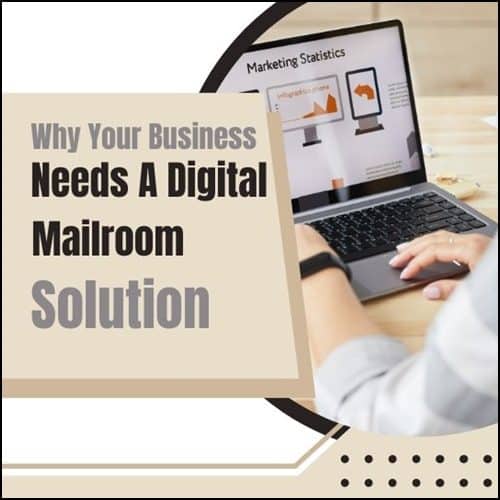 In today's fast-paced business world, companies are constantly seeking ways to improve their operations and remain competitive. One area that is often overlooked but can greatly impact a company's efficiency and cost-effectiveness is mail processing. With the increasing volume of physical mail and the need for remote access in a digital age, businesses are turning towards digital mailroom solutions.
A digital mailroom solution is an automated system that converts physical mail into electronic files for easy management, storage, and distribution. This technology allows businesses to streamline their mail processing while reducing costs and improving operational efficiency. In this article, we will explore the benefits of implementing a digital mailroom solution in your business and how it can help you stay ahead of the curve in today's technological landscape.
Streamlined Mail Processing
Efficient mail processing is crucial for any organization to maintain an organized and productive workflow, and a streamlined mail processing system can significantly improve the overall efficiency of the process. One solution that has become increasingly popular in recent years is the implementation of a digital mailroom solution. This technology allows businesses to automate their mail processing, reducing manual labor and human error while increasing productivity.
One of the automation benefits of a digital mailroom solution is its ability to capture data from incoming mails and automatically route them to the appropriate recipient or department. Mailroom software features like Optical Character Recognition (OCR) technology enable users to scan letters, invoices, packages, and other documents quickly. OCR recognizes text characters within images and converts them into editable text files which can be searched electronically with ease. Additionally, automated workflows can be set up so that when specific criteria are met, such as certain keywords appearing in an email subject line or sender's name matching a pre-defined list, emails get routed automatically to designated folders or personnel. This kind of automation drastically reduces manual effort required for sorting through incoming mails manually while ensuring accuracy and efficiency in routing critical information within your organization.
Cost Reduction
The implementation of a digital mailroom solution has been found to result in a reduction of up to 60% in processing costs for businesses, highlighting the financial benefits of such a system. Rather than relying on physical documents and manual processes, digital mailrooms leverage automation technologies like machine learning algorithms and optical character recognition software to efficiently sort, scan, and categorize incoming mail. This leads to significant reductions in labor costs associated with manual sorting and data entry tasks.
Outsourcing options are also available for those businesses that lack the resources or expertise needed to implement a digital mailroom solution in-house. Outsourcing providers can handle all aspects of the digitization process, from collection and transportation through scanning, indexing, and storage. By partnering with an outsourcing provider, businesses can realize cost savings while still benefiting from the increased efficiency provided by a digital mailroom solution. Overall, the financial benefits of implementing a digital mailroom solution cannot be ignored as it provides an opportunity for businesses to streamline their operations while reducing costs associated with traditional paper-based processing methods.
Improved Efficiency
Studies have found that businesses utilizing a digital mailroom solution experience a 50% reduction in processing time, allowing for faster communication with customers and improved overall efficiency. Automated sorting is one of the key time-saving techniques employed by digital mailrooms. This technology automates the process of sorting incoming mail, reducing the amount of manual labor required to sort correspondence. By using Optical Character Recognition (OCR) software, automated sorting can scan each piece of incoming mail and match it against pre-established criteria to distribute it to the correct department or individual within an organization.
In addition to automated sorting, digital mailrooms also offer other features that contribute to improved efficiency. For example, document scanning services allow businesses to digitize paper documents quickly and easily so they can be accessed digitally from anywhere at any time. This eliminates the need for physical storage space while making information more accessible and easier to manage. Additionally, many digital mailrooms offer workflow automation tools that streamline business processes such as invoice processing or contract management. These tools enable organizations to reduce errors and minimize delays by automating repetitive tasks and simplifying complex workflows, resulting in enhanced overall efficiency.
Remote Access and Storage Space Optimization
Remote access and storage space optimization are two crucial benefits that digital mailrooms offer, catering to the modern-day needs of businesses. Cloud-based solutions provide remote accessibility to the mails, enabling the staff to access them from anywhere with just an internet connection. This feature is highly beneficial for companies with a distributed workforce or those who work remotely. With cloud-based solutions, employees can easily access incoming mails, track their progress and respond promptly without any delay.
Moreover, digital mailroom solutions also help optimize storage spaces by eliminating the need for physical space for storing incoming mail and packages. Businesses no longer have to worry about allocating separate spaces for holding documents as everything is stored digitally in secure servers. However, it is pertinent to note that cybersecurity measures must be taken into consideration while storing sensitive information online. The use of firewalls, encryption mechanisms and other security protocols ensure that data remains safe from unauthorized access or cyber threats. Therefore, remote accessibility and space optimization are two critical features of digital mailrooms that enhance business efficiency while ensuring data security at all times.
Frequently Asked Questions
How does a digital mailroom solution handle sensitive or confidential mail?
Secure processing and confidential document management are two fundamental aspects of a digital mailroom solution that handle sensitive or confidential mail. When it comes to secure processing, a digital mailroom ensures that all incoming documents are promptly scanned and stored in an encrypted format in a secure location. This process eliminates unauthorized access to sensitive information during transmission or storage. On the other hand, confidential document management guarantees that only authorized personnel can access such documents, ensuring data privacy and protection from malicious attacks. Additionally, advanced technologies like optical character recognition (OCR) and machine learning algorithms facilitate fast and accurate identification of confidential documents for further action like encryption or redaction before forwarding them to their intended recipients. These features make the digital mailroom solution an essential tool for organizations seeking comprehensive security measures for handling sensitive data effectively.
Can a digital mailroom solution integrate with existing workflow and document management systems?
Digital mailroom solutions can integrate with existing workflow and document management systems, providing businesses with a streamlined approach to managing their incoming mail. Integration capabilities are an essential consideration when selecting a digital mailroom solution, as it ensures that the system works in tandem with existing technologies. With its ability to connect multiple systems into one cohesive platform, integrating a digital mailroom solution can reduce costs associated with manual handling and processing of physical mail. However, cost considerations must also be taken into account when deciding on integration options, as some integrations may require additional software or hardware investments. By evaluating integration capabilities and cost considerations together, businesses can make informed decisions about implementing a digital mailroom solution that maximizes efficiency while minimizing expenses.
What level of technical expertise is required to implement and maintain a digital mailroom solution?
When implementing a digital mailroom solution, organizations face various implementation challenges and staff training requirements. According to a recent survey conducted by AIIM, 56% of respondents indicated that the level of difficulty in implementing a digital mailroom solution varied from moderate to very difficult. A key challenge is ensuring that all incoming physical documents are digitized accurately and efficiently. Additionally, staff members need to be trained on how to use the new system effectively. However, despite these challenges, a thorough cost-benefit analysis and ROI calculation can demonstrate significant long-term financial savings for businesses that implement digital mailroom solutions. It is crucial for organizations to have technical expertise available during the implementation process and ongoing maintenance to ensure optimal performance of the system.
How does a digital mailroom solution address concerns about data privacy and security?
Data privacy and security are major concerns for businesses when implementing a digital mailroom solution. To address these concerns, digital mailroom solutions use various measures such as data encryption to protect sensitive information from unauthorized access. Compliance regulations play an important role in ensuring that these measures are implemented effectively. By adhering to compliance regulations, digital mailrooms provide businesses with a secure platform for managing their mail while minimizing the risk of data breaches and other security threats. Overall, the implementation of a digital mailroom solution can enhance data privacy and security, enabling businesses to operate more efficiently in today's technology-driven business landscape.
Is there a limit to the amount of mail that can be processed through a digital mailroom solution?
Scalability limitations and resource utilization optimization are critical considerations when implementing a digital mailroom solution. While the technology can handle vast amounts of mail, scaling up to meet increased demand requires careful planning and resource allocation. The amount of incoming mail that a digital mailroom solution can process is dependent on several factors, including the hardware and software used, network bandwidth, and processing algorithms employed. Implementing an efficient system that optimizes available resources can help mitigate scalability limitations while ensuring that all incoming mail is processed promptly and accurately. The key to successful implementation lies in selecting a scalable platform that can adapt to changing business needs without compromising performance or security.
Conclusion
The digital age has brought about many advancements in technology, and businesses must keep up with the changes to stay competitive. An efficient mailroom is crucial for any organization as it is an essential component of daily operations. Going digital offers a solution that streamlines mail processing, reduces costs, improves efficiency, and optimizes storage space. It may seem ironic that something as mundane as the mailroom can benefit from cutting-edge technology, but the benefits are undeniable.
A digital mailroom solution eliminates manual sorting and entry of information into outdated systems by using automated processes that can recognize specific keywords or phrases associated with certain types of mail. This saves time and reduces errors by ensuring accurate data entry. In addition, going digital means more efficient use of office space as physical storage requirements decrease significantly. The advantages include reduced operating costs associated with paper-based processes such as printing, copying, postage expenses and lower staffing requirements. In conclusion, going digital with your company's mailroom offers numerous benefits that will help improve your business's bottom line while increasing productivity. By embracing this new technology-driven approach to managing incoming communications effectively and efficiently via a centralized hub – businesses will be able to streamline their operations while reducing costs dramatically. Though it may seem like a small change on the surface level – investing in a digital mailroom solution is one step towards future-proofing your business by staying ahead of the curve in terms of innovation and technological advancement – which ultimately translates into success in today's fast-paced business landscape!