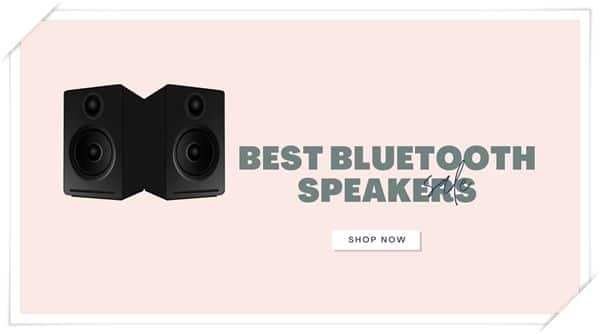 Here's my buyers guide going through the best of the best Bluetooth speakers from small to large and over just the major features of each for the full details you got to watch my reviews now keep in mind these are speakers that i personally tested there are some that I obviously couldn't get to by the time this video here if there's some worthy ones out there please leave a comment in the comment section below to help some others out there find their way as always our place by amazon links in the video description below click on links and they'll give you the most updated prices in real-time now getting right into this started with the small speaker category first up is the JBL flip 3.
JBL Flip 3
offering a loud performance better bass response over most other small best Bluetooth speakers better life is rated at ten hours of playtime and probably best of all at the time this video the price has dropped down to semi nine dollars now to flip three is flash resistance and the base radiators are very tough but they are indeed still exposed if you need the absolute most rugged speaker out of them all at around this price range.
UE Boom 2
the ue role to is an excellent alternative it is lacking in basins probably only thing that I didn't like about it but the ue role to still provide decent audio it makes up for that lack of base with absolute ruggedness I've tosses in the mud Springs and water toss the dried turn this thing it's still surviving it's almost nearly bulletproof basically no better life is up to 9 hours on this with a price tag of ninety-nine dollars now for those who want something at home and not needing waterproofing sony x10 23 if next on my list .
Sony x10
add up to 12 hours of use which is on the upper end with the clear Audio plus function the extra three tunes your audio output and gives a nice and clear experience very neutral sound signature here that's very fine and easy to listen to know this one is also priced at $99 not last and this is for those who have a much bigger budget but absolutely requires a small size that same ruggedness waterproofing and values the best audio performance for the small speaker category it'd be you know a one best Bluetooth speaker has it all it's priced at 249 dollars which is very expensive but again it's about the same diameter as the you roll too but the audio performance is the best for the size last if you absolutely are on a budget don't need the bells and whistles and just looking for purely audio i reviewed.
Doss sound box
the dos sound box earlier this year it's priced at just $32 make this one the cheapest best Bluetooth speakers ever reviewed its clean clear and not distorted i know many folks are worried about buying super cheap speakers here but i have reviewed this i have offered these sound samples of every channel and it works great as a again simple best Bluetooth speaker for casual use again on the updated prices will be in the description below click on them for the most updated prices.
JBL Charge 3
now moving on to the mid-size here the JBL charge three is still one of my favorites for its insane better life up to 20 hours features include a charge out port to charge other devices it's not just splash proof but you can fully dump this underwater the JBL Connect feature allows me to hook up two speakers at the same time to have a much bigger audio presence and possibly best of all sound for its price basically its value add just a hundred forty nine dollars retail the auto is very impressive as it gives a bass boosted center it's very loud in general the speaker's designed to gym out with not just for casual listening now for a few the bases a bit harsh at times but use an equalizer and the charge three is a great pet as an alternative .
Sony SRS-XB3
if you want absolute base the sony xb3 nails it water resistance up to 24 hours of battery life very solid design and the reason why this is on this list here is it does provide better value over the beats pill plus the newest plus still provides great audio i personally like the design but it featured only 12 hours of better performance there's no water resistance again that's subjective to your needs here and the pill plus is retailing for 230 dollars which is quite expensive here no other mid-tier speakers to consider is the ue boom to it gets super loud but it didn't offer the base of the other affirmation speakers but again the ruggedness water submersion the fact that the speaker can float in water if you do accidentally drop it into the pool or lake makes up for its shortcomings now up to 15 hours a better life and what newest yet most unique features here you introduce this thing called party up allowing you to connect up to 50 ue speakers together not just two speakers like the charge three or beats pill plus last still one of the best all-around speakers .
Sound link mini
for nearly every jammer here the post sound link mini 2 is still one of my favorites offering more of an open soundstage more so than other speakers out there and offer one the best infidelity in detail versus the other models I at least mentioned so far the most doesn't provide that in your face bass boosted sound signature but a neutral very clear experience the mini to retails for 200 dollars I've seen them on sale 480 here and almost forgot here better life is sadly though the shortest at just 10 hours of use.
Marshall
now last up on the large size Bluetooth speakers Marshall Stanmore makes it on my list here for it looks styling and uniqueness this does require to be plugged into the wall but the loud audio outputs the room filling music goes a long way how much features on this besides the golden am simulating the iconic marshal amps of the past and present but the auto characteristics focus on generous of rock instrumental and vocals this one is for sure worth looking into the Stanmore is price though it's kind of expensive but it's priced at 349 dollars
Fugoo XL Sport
moving on the food sport XL and the ue mega makes a return on my list here both providing full water submersion both speakers can float in the water if you do accidentally drop it in the laker again the pool and both provides absolutely loud audio performance for outdoor entertaining the mega dome is simply rub it all around here but the food sport XL takes a slightly different approach here by offering an outer protective shell that you can actually remove from the speaker itself.
now there's more drivers on each side of the fugu here to give it a more fuller sounding speaker when you're outdoors and not only that it offers best-in-class 35 hours of battery life which no other speaker can come close to it that I've personally tested so far if you ask me which one does sound better I just the food XL over the mega boom both these models retails for 300 dollars.
JBL Extreme
again check my links for the current cell prices and the very less because this entire list here is the JBL extra same time it starts to show its age though it doesn't have the best battery performance at just 15 hours which is still not bad though to be honest with you and you cannot connect more than two speakers like you can with the you approach these days and it's only splash-proof you cannot submerge this underwater but from my testing year it's still the best sounding large portable Bluetooth speaker on the market if you're using this as your backyard barbecue around the house in the park the extreme still sound the most impressive with its bass boosted audio performance it's loud output and simply a 10-day it's just immersive more than the others more so than the other speakers that I've mentioned so far extreme retails for 300 dollars but lately I've seen them around for 250 around.