Advancements in technology have seen scammers make use of different tools just to hoodwink an unsuspecting individual who answers a call to take their data, money, and valuables has given rise to the reimagining of ways to combat phone scams. Spoofing technology and robocalling, for instance, are some favored tools for scammers. Spoofing technology is used to display fake caller ids that can be made to look like whatever fits their narrative in an attempt to legitimize their identity in the eye of the person who answers the call while robocalling helps to automate the calls and dial out hundreds and thousands of numbers faster. But there are also new tools that can help prevent these scams from the onset and one such tool to have risen to prominence is reverse phone lookup. A reverse phone number lookup can help you identify the caller tapping into directory databases and information matched to the number that is publicly available over the internet. Basically what you're doing is using the phone number to find the source of the call and owner of the number. These details you can get from free reverse number lookup services.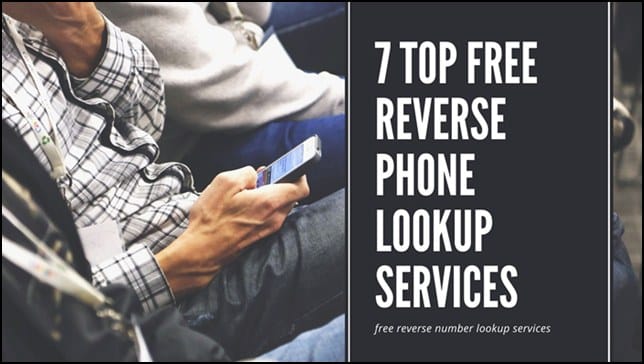 7 Top free reverse phone lookup service providers
Zlookup
Zlookup is a service provider for reverse phone number searches that is completely free. The platform was developed to help prevent harassment and phone scams making it easier for users to identify callers who might be fraudulent. The platform is easy to use and by keying in a phone number, the search results display information connected to the number in quick time.
CocoFinder
One of the most popular platforms in the world for free reverse phone search is called CocoFinder. With an enormous database (sourced from publicly available records), all one needs to do is to input a single phone number or name on the search bar and wait for the search results. The platform is convenient and safe to use without advanced technical know-how. The search results are usually accurate, precise, and reliable especially as the databases are updated regularly.
Spokeo
Spokeo is a free resource for reverse phone number search services. Although it has a paid option with more detailed information, the free search option is still able to give the basic background check on a phone number. So you can use the service to find out the owner of a number that called you as long as the information is available. It has one of the cheapest single search options where you pay for a specific search only.
Truthfinder
Truthfinder is one of the best free reverse phone numbers lookup providers to use as it has the benefits of giving additional information. The platform is user-friendly and by keying in a number you can discover information like physical addresses, email addresses, criminal record information, other phone numbers associated with the person, etc.
Instant Checkmate
Instant checkmate is regarded as the largest reverse phone lookup directory as it allows users to do reverse phone number lookups with background checks with access to public records that can turn up additional information in your search. This can include names, email addresses, location, addresses (past and current), social media profiles, marriages and divorces, phone numbers, birthdays and age, etc. The platform offers anonymous searches so you don't need to worry about confidentiality.
Intelius
Intelius is one of the best providers of reverse phone lookup services. The platform is designed to provide the name, history, address, phone type, and other information in public records when you type in a number. Your confidentiality is also protected as you search and the database available is vast. Like most reverse phone number lookup services it offers a free and a paid service that gives more detailed reports.
Radaris Comprehensive search
Radaris is one of those reverse phone number search service providers that are free. The platform can be accessed from anywhere in the world and the search results come out with additional information that can be seen without paying an additional fee. But phone numbers that can be searched are US phone numbers only. This tool helps you search for a caller that seems suspicious and uncover necessary information such as email, residential addresses, social media profiles, and others.