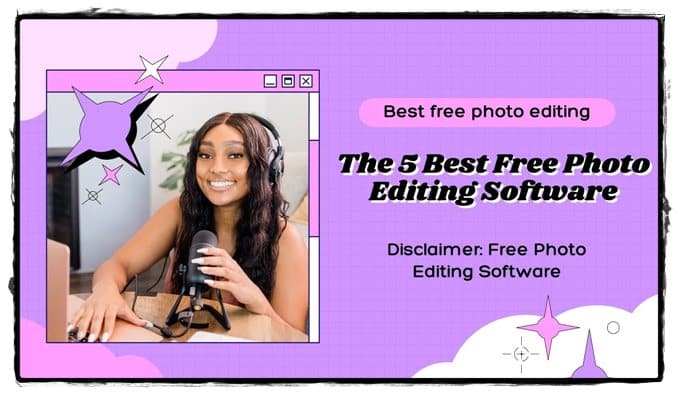 Hey guys and girls you on here again with some free image and photo editors for 2018. I'm going to be reviewing software that will allow you to do quick edits and corrections to your photos. But also more advanced graphics editor so, you can do complex work such as photo retouching and image manipulation. I might be adding some basic tutorials for some of these graphics editors to help get you.
Picasa
Anyway let's get started with number five because it is a free image organizer viewer and editor developed by Google. because is basically similar to adobe light room. you can use it to view organize and manage all the photos and images on your computer.
As well as back them up to the cloud if you have a Google account because, i also have some basic editing features including cropping red eye, removal retouching and simple text adding. You can also adjust contrast brightness, highlights, shadows and color temperature.
Because, it also has a few filters that you can apply including soft focus sharpens apish black and white film grain and more regardless of what other image and photo editing programs.
You have it's useful to have because as a way to organize and pack up your photos because is available for windows and mac and online you can view manage and perform simple edits on your photos on Google+ photos by logging in to your Google account. if you decide to back them up to the cloud that is I'll give because a seven out of ten points.
Paint net
I had paint net on the last year's list as well but it is still one of the best free photo editing programs available. So here it is again paint net is a free image and photo editor developed by pen LLC.
It has a fairly easy to use interface that is kind of like a mix of Microsoft Paint and Photoshop at least that's what it reminds me of it has basic features such as resizing and cropping images.
But it also supports more advanced features such as layers and selection tools even though those are not as advanced or versatile as some other graphics editors still it allows.
You to do a good amount of photo manipulation and graphics editing paint net also has filters that allow you to adjust color balance brightness, contrast, levels curves and much more enabling color correction and photo retouching paint net is only available for Windows and it is still being developed and updated I'll give paint net seven point five out of ten points.
Fotor
Fotor is a best photo editing software free and retouching program developed whatever imaging Ltd. photo tour is very easy to use and it is not by any means and advanced image or graphics editor like paint net. But it is a very handy program if you don't want to spend a whole lot of time adjusting colors layers and masks to get some really cool color themes for your photos, what photos are you can fix red eye from camera flashes select reset lighting themes or make your own adjustments to things such as tone white balance, signet highlights shadows and more There are also instagram-like preset color themes which you can use and you're able to adjust the intensity on those but not much more you can add borders text.
There's still shift feature which allows you to focus on a part of the image and have a gradual blur around it which is pretty cool, there's also an option to make collages and batch editing is supported as well so you can process a bunch of photos very quickly the text feature is a bit iffy i would recommend using other software for that.
But the door is excellent for doing fast high quality edits, if you're not looking to do anything too specific you can also upgrade photo tour to a paid version to get access to more features and preset themes photo tour is available for windows and mac.
Also has mobile apps for android and iOS photo also has a web app for editing single photos and making collages which you can access via your browser at photo.com I'll get photo or eight out of ten points.
krita
Krita is a best photo editing software for pc free download editor, but it's more geared toward painting and sketching concept art illustrations textures and stuff like that however it.
Also has all the tools needed for photo editing and manipulation with creature you can do all the basic stuff like resizing are cropping images it also supports layers and selection tools allowing you to manipulate photos and other images doing things such as removing the background or adding other objects to an image.
Krista has filters for adjusting brightness contrast color balance levels sharpness blur and much more allowing you to do color correction and improve your photos in other ways.
But it doesn't have any batch editing options or plugin support not yet anyway which is a  if you are looking to edit lots of photos quickly the interface is similar to Photoshop and paint net.
It is fairly easy to use but creature is also a more advanced graphics editor. so it's not quite as easy as photo tour or Picasa pretty is available for windows Linux and mac and it is still being actively developed Rita was also partially crowd funded on Kick starter I'll get treat 8.5 out of 10 points
Gimp
Good old gimp it stands for a GNU image manipulation program by the way nothing  GIMP is a best free photo editing software for windows 10 graphics editor that also has all the tools needed for photo editing retouching and manipulation. It has filters for brightness, contrast, color balance saturation and all that good stuff.
So you can fix over exposure or color correct your photos. He also has support for layers and selection tools which allows you to remove or add stuff to images such as backgrounds or water marks the interface is a bit unconventional it's a modular design that is highly configurable to your personal needs game is not the simplest editor.
As such it does have a bit of a learning curve but if you used other advanced graphics editors before it shouldn't be too difficult to get a hang of it and even, if you haven't there are plenty of resources out there to help you learn you also support scripting and plugins scripts allow you to automate certain tasks and plugins can add additional features to the program for example there are some plugins for batch processing allowing you to resize and color correct multiple images which one command one such plugin is called been short for a batch image manipulation plug-in game is available for windows, Linux and mac and it is still actively developed an updated overall. GIMP is very versatile and still the best free image and graphics editor. I have been able to find I'll give gimp nine out of ten points .